M1D-B Huawei è il router ad accesso 10GE con uplink 50GE a costi contenuti. Con le sue dimensioni ridotte, 1U, profondità di 220 mm, il router raggiunge una capacità di 184 Gbit/s (50GE: 2, 25GE: 2, 10GE: 16, GE:22 ottiche + 4 elettriche), adattandosi facilmente a diversi servizi, risparmiando preziose risorse di spazio e riducendo notevolmente il Capex. Supporta funzionalità avanzate come OSPF, RIP, IS, BGP, ACL, IPv4, 6VPE, ARP, VLANIF, VxLAN, MPLS, SRv6/EVPN, FlexE, SRv6, FlexE, MACsec e clock ad alta precisione 1588v2.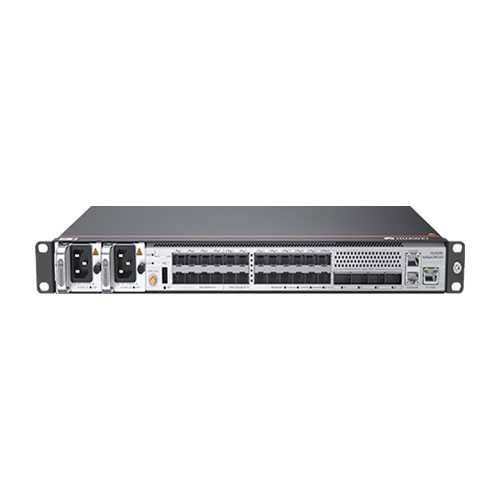 Evoluzione sostenibile
SRv6/EVPNFlexE isolamento hard slicing della rete; supporto MACsec per garantire la sicurezza della rete; orologio ad alta precisione da 10 ns
Dimensioni compatte, ingombro ridotto
Router 1U, profondità 300 mm in armadio da esterno
M1D-B Huawei: Elevata affidabilità
Back di ridondanza delle componenti chiave; Power supply 1 + 1 protection; Fan 2 + 1 protection; ampio range di temperatura
50 Gbit/s uplink
Max 184 Gbit/s; supporta max 16*10GE, 2*25GE, and 2*50GE
ports
NetEngine8000 M1D-B: scenari applicativi

M1D-B Huawei offre prestazioni elevate, affidabilità e prezzo accessibile ed è compatibile con una vasta gamma di dispositivi e tecnologie Wi-Fi garantendo così una facile integrazione con le reti WISP esistenti.
La piattaforma NetEngine 8000 include router intelligenti e soluzioni complete che si adattano perfettamente all'era del Cloud. Scopri gli altri router disponibili a portfolio: M1C e F1A, deali per WISP e Autonomous System. Offrono stabilità, affidabilità, alta capacità di routing, elevato risparmio energetico e gestione semplificata.
I router Huawei si distinguono per le elevate performance di rete e per la sicurezza, riescono infatti in pochi secondi ad aggiornare una Full Routing table BGP e, grazie a sistemi avanzati come il BGP Diversion o il Management Out of Band, aiutano a proteggere la tua rete da attacchi DDoS. I router Huawei supportano i migliori protocolli di routing quali OSPF, BGP, MPLS e IS-IS.
Vuoi saperne di più sul router M1D-B Huawei? Contattaci subito e richiedi informazioni, siamo a tua completa disposizione per guidarti nella scelta del prodotto più adatto al tuo progetto.
Seguici su Facebook!